Ram trucks have long been known for their quality, dependability, and capability. Ram builds their trucks with high-strength steel frames, strong engines, powerful 4×4 systems, and impressive off-road suspensions. In addition, you'll find various tires designed to get the best performance depending on the model of your Ram truck. Here we'll take a closer look at what tires work best on the Ram truck lineup. We'll also tell you how to care for your tires properly and what you need to consider when replacing them.
Tire Sizes Explained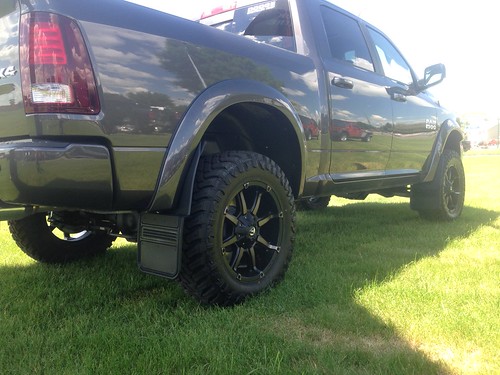 The size of tires you use depends in part on the size of your truck's wheels. Wheel sizes vary by model and trim. For example, the Ram 1500 has eight trim levels, and the wheels come in 18-inch, 20-inch, or 22-inch sizes. These sizes reflect the diameter of the wheel. Tire part numbers have this information within them if you know how to read them.
For instance, the Ram 1500 Tradesman uses a P275/65R18 BSW AS tire. The "P" stands for the type of tire, in this case, a passenger vehicle. You might find a tire number that begins with "LT," which stands for light truck. Unless you have an old or specialty truck, you'll only ever see these two designations.
The following three digits, "275," refer to the tire's tread width in millimeters. After the slash, you have the number "65," which denotes the aspect ratio. In simpler terms, this measures the height of your sidewall from the wheel rim to the top of the tread. Manufacturers express this as a percentage of your tire's width. So, in this case, the tire's height measures 65% of the tire's tread width. The higher the aspect ratio, the taller the tire.
The following letter "R" stands for the construction type of tire. In this case, it's a radial tire. Again, unless you have a specialty truck or antique, your tires will be radial. After this, you have the tire's inside diameter. In this example, you have an 18-inch diameter that measures the tire's hole, which matches the wheel size. Continuing, the "BSW" refers to the black sidewall, and the "AS" stands for the type of tire or its purpose: in this case, all season.
Types of Tires
All tires aren't created equal, but they all have a specific purpose. All season tires were designed for combination use throughout the year. They offer traction on hot, dry roads in the summer and snow-covered roads in the winter. You might want to purchase a winter-specific tire if you live in a particularly cold climate that sees a lot of snow. However, snowfall rarely happens in Texas, so you're more likely to use an all-season tire. 
Touring tires deliver smoother rides and commonly come with sedans. All-terrain tires were designed with an aggressive tread pattern for enhanced traction on softer surfaces, like mud and sand. Truck owners in Texas often use all-terrain tires, especially if you like off-road adventuring. You might also consider a mud-terrain tire for such adventures.
Ram Truck Tires
The Ram 1500 trucks using 18-inch tires include the Tradesman, Bighorn, Laramie, Rebel, and TRX trims. The Tradesman, Bighorn, and Laramie trims come with P275/65R18 all-season tires. On the Ram 1500 Tradesman HFE truck, you'll find P275/55/R20 tires with a smaller aspect ratio and larger diameter to match the 20-inch wheels.
Ram uses an LT275/65R18 all-terrain tire on the Rebel trim, and you'll notice the light truck designation used here. The TRX also uses the all-terrain tire but with a larger tread on the LT325/65/R18 model. These two trims were engineered for off-road travel. Thus they have tires to match. On the Limited and Limited Longhorn trims, you have P275/65R20 all-season tires.
You can put any type of tire you want on your Ram 1500 truck, so long as it matches the wheel size. More importantly, you should aim to match your type of tire to the road conditions you expect. For example, if you drive mainly on the highway, an aggressive all-terrain tread creates more vibrations and noise than an all-season tire. Conversely, if you go off-road often, an all-season tire won't provide the traction you want or need.
Caring for Your Tires
As one of the most essential safety parts on your truck, tires need care. We recommend keeping your tires inflated properly. Too little air in your tires will result in excessive wear and poor fuel economy. Too much air in your tires will cause uneven wear. Excessive and uneven wear will shorten the tire's lifespan, and you'll have to replace them sooner.
Rotating your tires helps extend your tire's life. Tires on the front axle operate under different loads and conditions than those on the rear axle. For instance, front tires have to steer your truck but also provide traction. The tires on the rear provide traction and acceleration. If you carry heavy loads in your bed, the rear tires have to bear that weight, which can cause them to wear faster. By rotating your tires, you spread the wear out over all four tires. We suggest rotating your tires every other oil change.
Keeping your steering aligned will also help extend your tire's life. Your truck was designed to fit tires in a specific location for optimal traction and control. Improper alignment will cause your truck to pull to one side, resulting in uneven wear. If you notice your truck drifting to one side while you're driving straight, you probably need an alignment.
At Huffines CDJR Lewisville, we understand the vital role your tires play in your Ram truck. That's why we provide ongoing training to all of our service center technicians to remain updated on all Ram truck parts and repairs, including tires. In addition, our state-of-the-art service center uses the finest tools and equipment to diagnose and repair your truck.
If you think you have a problem with your tires or need a tire rotation or alignment, you can schedule a service visit online. One of our technicians will quickly diagnose the problem and recommend a solution. Our tire department has an extensive inventory of tires designed specifically for your Ram truck if you need to replace your tires. In most cases, we can perform your tire service in under 30 minutes, getting you back to your busy life quickly.